Lovely Cultus Lake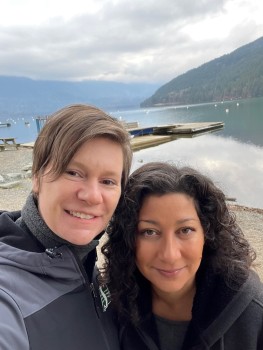 We recently had a visit from our eldest niece and her boyfriend, who hails from the UK. Despite the chilly weather we took them for a stroll around Cultus Lake. We figured that a lad from England was unlikely to be scared off by a little drizzle!
The rain held off just long enough for us to get back to our car, the only one in the lot. The lake was just beautiful, totally deserted, and so close to home! We are definitely going to make the time to visit more often.
Gardening Tips for Beginners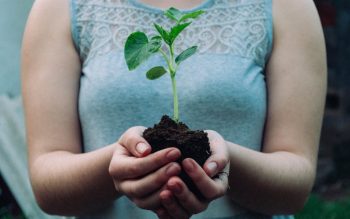 Do you want to grow a garden?
There are many reasons to dig in, including to:
-Eat delicious, fresh, local, organic food.
-Save money and avoid wasteful packaging, e.g., a small urban lot with less than 0.024 hectares (0.06 acres) in production might enjoy yields worth $3,500 to $6,000 per year!
-Enjoy physical and mental health benefits of digging in the dirt (soil microbes).
-Help pollinators.
-Take climate action. Did you know "greenhouse gas emissions can be cut by 2 kilograms for every kilo of homegrown vegetable when compared to the store-bought counterpart?"
WHERE AND HOW WILL YOU PLANT?
Sketch a sun map
Is your yard, balcony or windowsill in full shade, part shade, full sun or a combination? No need to guess. Find out how to map or sketch the sun's daily pattern. You'll save time and money planting in the correct place and you'll learn how to interpret instruction tags on plants. Did you know "full sun" means the site receives more than six hours of sunlight each day? Beware of frost pockets (dips or the lowest part of your yard) and note if you need wind protection.
Get your lawn off grass
Use sheet mulch instead of tearing up sod. Put down about three layers of cardboard (free from tape and/or staples) to smother lawn. Then add soil, compost or raised beds and get planting annuals and perennials — maybe start a food forest! Free arborist wood chips are great for trails between beds. Call a tree-trimming company to ask for a free load or flag down a truck chipping in your neighbourhood.
Tip: Fill raised beds with 30-40 centimetres of soil and compost.
Federal Budget to Include $10B Housing Plan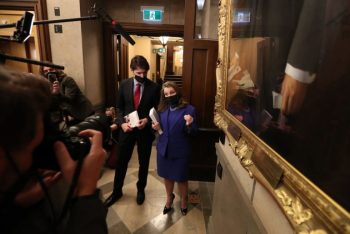 As Canadians face a cost of living crunch, tackling housing affordability is going to be a main feature of Thursday's federal budget, CTV News has learned.
From moving to make it illegal for foreigners to buy any residential properties in Canada for the next two years, to rolling out a tax-free savings account for first-time buyers, the government is looking to make good on a series of 2021 Liberal campaign commitments in the 2022 budget.
Coming at a time of considerable economic and international instability, Deputy Prime Minister and Finance Minister Chrystia Freeland appears to have focused considerably in this budget on what the government can do to counter the housing crunch, the lack of inventory, and the skyrocketing prices.
While spending an estimated $10 billion over the next five years on the overall housing package, the government will also be implementing new policies meant to help increase the inventory and help those being dramatically outbid, including shutting foreign buyers out of the market.
The foreign buyers ban will apply to condos, apartments, and single residential units. Permanent residents, foreign workers, and students will be excluded from this new measure. Foreigners who are purchasing their primary residence here in Canada will be exempt.
The policy change will be legislated, giving the government powers to prescribe penalties and potential judicial powers to address instances of non-compliance, according to a government source. There is no cost attached to this foreign buyers measure yet.
Among the several housing-focused promises in the party's platform, the Liberals promised to work with the provinces and territories "to better regulate the role of foreign buyers in the Canadian housing market."
In the budget, the Liberals will also be moving to implement a new "Tax-Free First Home Savings Account" that, if it mirrors the Liberal platform promise, will allow Canadians under 40 to save up to $40,000 towards their first home.
With the aim of shortening the time it'll take to afford a down payment, first-time home buyers would be able to withdraw this money tax-free to put towards their first home purchase, with no requirement to repay it, per the Liberal platform.
Also included in the sizable housing section of Thursday's budget will be:
$4 billion to help municipalities update their zoning and permit systems to allow for speedier construction of residential properties;$1 billion for the construction of affordable housing units; and$1.5 billion in loans and funding for co-op housing.
The $4 billion for municipalities appears to be addressing one of the housing elements from the Liberal-NDP deal. The confidence-and-supply agreement included a pledge to move ahead with "launching a Housing Accelerator Fund."
This is in reference to a Liberal platform commitment, which is meant to incentivize housing construction by cutting red tape and building other digitized systems related to municipal planning, zoning and permitting systems.
It remains unclear how many housing units will be created under these spending measures.
"The objective is to keep houses in Canada for Canadians," said a government official speaking to CTV News on a not-for-attribution basis.