How often do I send out my newsletter?
Once a month. Usually around the 1st.
How big is my database?
I started with around 200ish people that I knew in June 2012 and I passively grew by 10 people a month over the last 2.5 years.
Today, I have a database of 450 +.
Where did the new contacts come from?
My current database referring me to others.
How many people open my newsletter?
In any given month I will have 200 opens. Over multiple newsletters I have around 300 to 350 people opening up my newsletter.
What's the difference between 2000 to 2012 vs 2012 to 2014
2000 to 2012 – I did not stay in touch with anyone.
2012 to 2014 – I stayed in touch with everyone.
What did this mean for my business?
2000 to 2012
I started each year with a 0 list. I had to go out and get new business year over year. I basically threw out all the relationships I built each year, year over year, 12 years in a row.
2013
I started the year with a list of 200 people that saw my newsletter for the last 6 months.
2014
I started the year with a list of 300 people that saw my newsletter for the last 18 months
2015 (Future)
I will start the year with a list of 400 people that saw my newsletter over the last 30 months.
What would of my business look like if I started this when I was 20 years old in 2000?
I'd start 2015 with a list of 2000 people who saw my newsletter over the last 15 years.
This would be insane. Imagine the mortgage production from 2000 relationships that have been growing and nurtured over 15 years.
What's the overall take away or lesson?
Staying in touch with everyone is the foundation for growing and compounding a business. If you do not do this, you are not compounding the years of work you did previously.
How many people open my newsletter?
350
What is the average time frame a person has to deal with their mortgage?
Common sense would say every 5 years, when the mortgage renews.
In reality it's more like 3 to 4 years, with moves, refinances, debt consolidation, equity take outs etc.
Let's say the average person will deal with their mortgage every 3.5 years.
3.5 years x 12 = 42 months
How many people in my database are currently dealing with their mortgage right now?
# of people in newsletter / Avg Mortgage Time Frame
350 People / 42 months
8.33 People this month in my database are dealing with their mortgage.
Let's round down and say 8.
8 people in my database of 350 people are dealing with their mortgage right now.
How many of those 8 will I get?
It's going to depend on how long they have been viewing my newsletters. The more they view and engage the higher the percentage of people I will get.
Based on my personal numbers, I'm currently in the 40% range. This means I'm converting 3 clients passively / month.
Do I get any other clients from my database?
Yes! The rest of my business comes from referrals from people who read my newsletter.
Notification are sent when someone clicks on a pdf or a video.
From my October 2014 Newsletter:
Opens - 218
Clicks - 239

When someone clicks, I get an email notification.
Here are my October 2014 Notifications:

Notifications look like this. At the bottom I can click and get full access to the contacts history.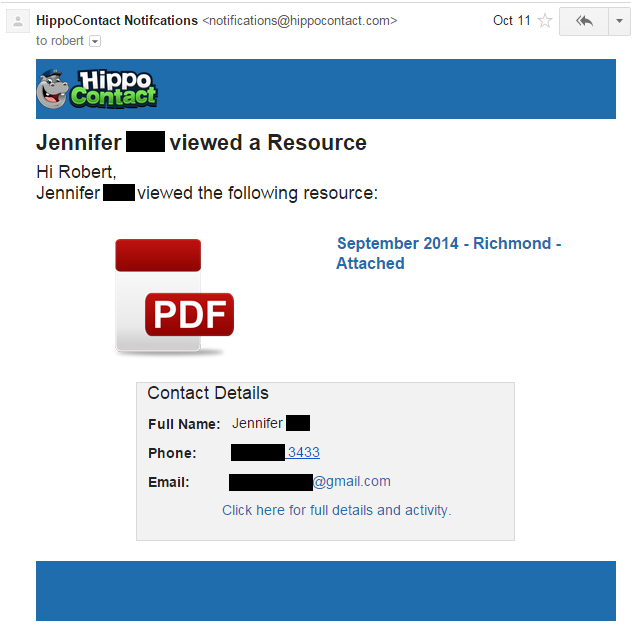 Left hand side shows activity. Right hand side shows when the newsletters were sent.
Whenever I communicate with anyone, I always check my activity history. It's nice when you see 3 pages of data from a contact you have not talked to in 2 years.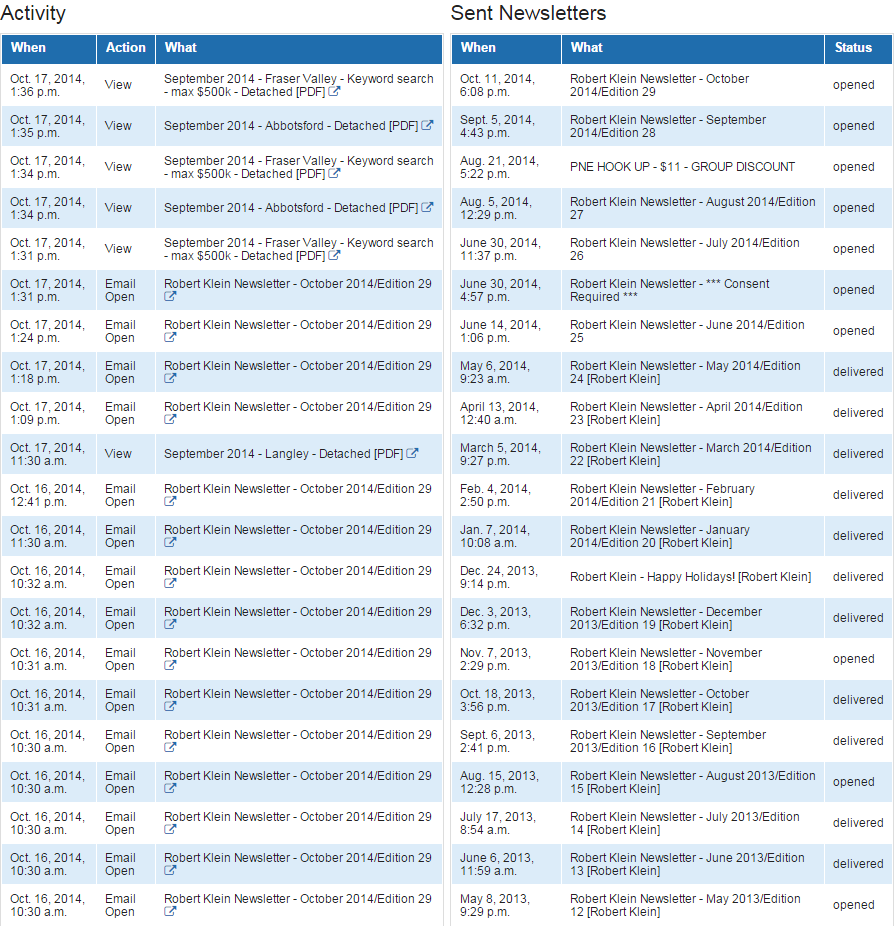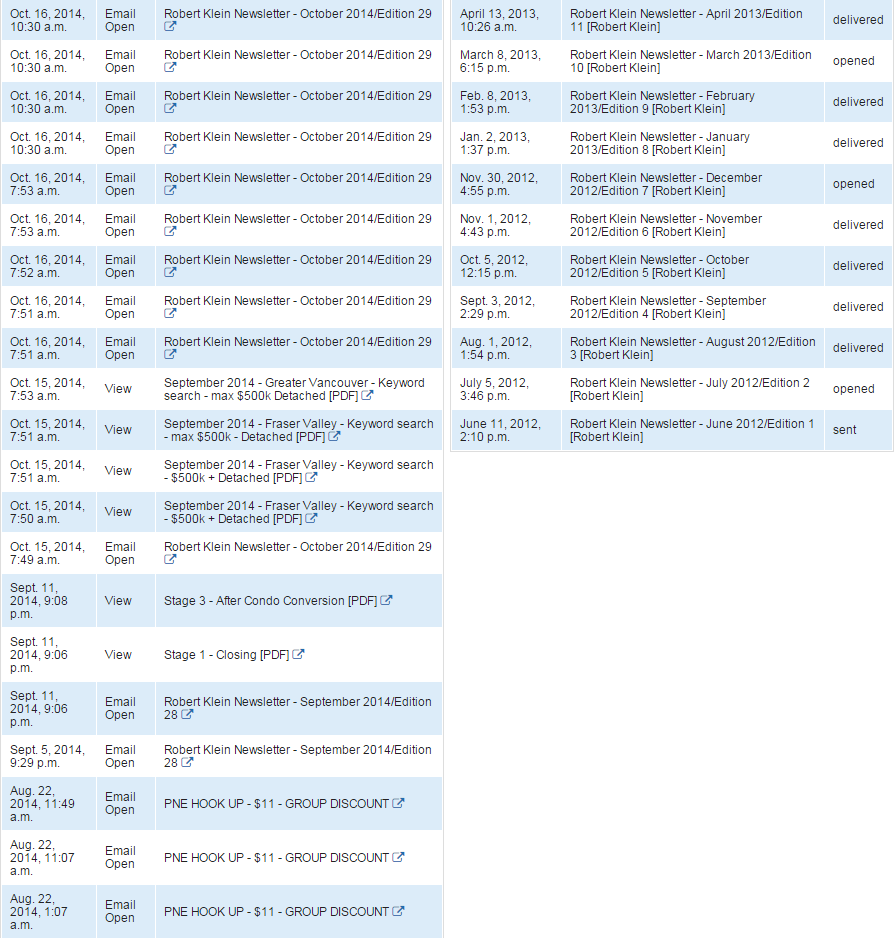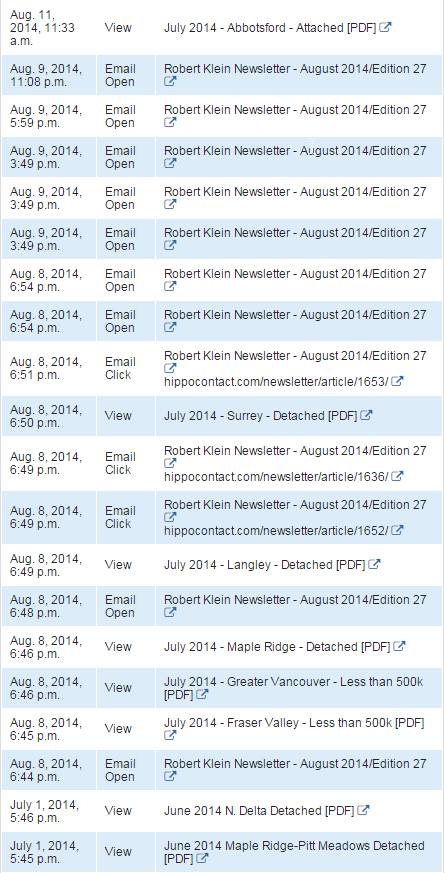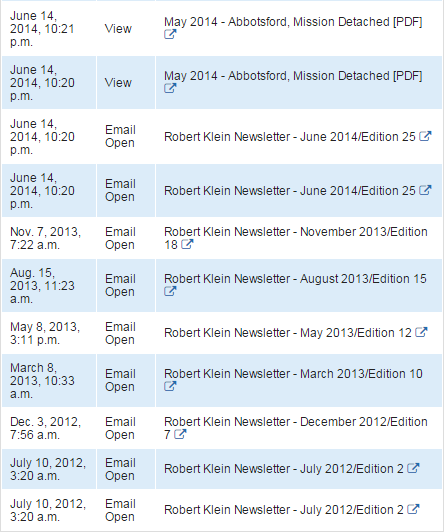 This is a live stream of all current actions taking place.

Lists generated: Unsubscribe, Invalid Emails, Bounces, Blocked and Spam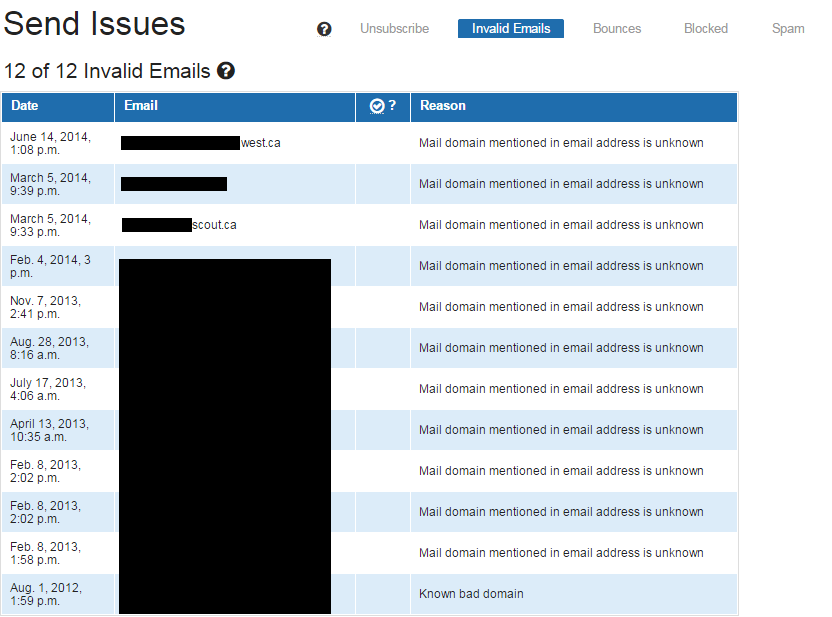 What's a hippo trap?
Most newsletters are dependent on the person receiving it to reply back to you. A hippo trap is a way to engage them directly based on what they clicked on inside of the newsletter.
Best way to explain is with an example.
Let's say I wanted to find out who in my database was interested in Langley New Construction Townhomes.
Two ways I could do this:
1. Create a single PDF with all the new Langley New Construction Townhomes.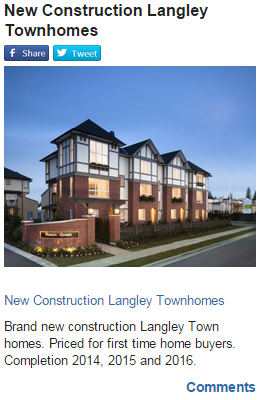 2. Create 6 PDF's with each new Langley New Construction Townhome.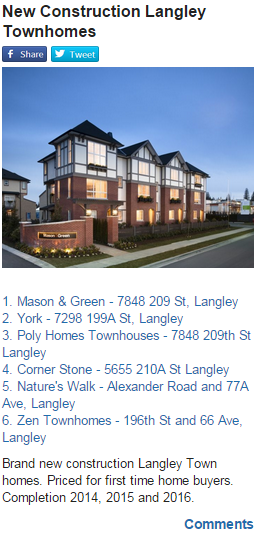 In case 1, if someone clicks on the PDF, I do not really know if that person is just looking or is very interested. This is due to having 1 thing to click.
In case 2, if the person clicks on 1 of the PDF's, then I know he was just looking. If he clicks on all 6, it's a good bet he might be interested in Langley New Construction Townhomes or townhomes in general! This gives me a reason to follow up.
How do I follow up with this type of information?
Softly.
I do not say:
(Haha, maybe a bit extreme)

Hey Mike,
I noticed at 3:35 pm Yesterday you clicked on all the Langley New Constriction Townhomes. We should set up a time to discuss your purchase of these properties?
I do say:
Hey Mike,
I can set up a search on the mls for new construction townhomes for Langley. Takes me 3 minutes to do.
Message back if you want it.
Talk soon
What's my #1 Goal?
A passive, non abrasive, nonchalant conversation.
Do I do this with all my content?
If I can expand the number of pieces of content in any subject I will, the more clicks/engagements the better.
Where did the idea of hippo traps come from?
Foreclosures Lists!
How?
I had a realtor friend of mine put together a huge list of foreclosure lists. It had 200 properties total and was very unreadable.
I then asked, why don't we segment these lists into separate areas. He then segmented them further into detached and attached homes.
We then had 25 PDFS of foreclosures separated by area and detached/attached


Then What Happened?
When I sent my first newsletter with these 25 PDF's. my clicks went from 20 to over 200.
What did you do with that info?
I followed up with over 60 people with this email:

Hi xxxxx,
If you like, I can set up an automatic foreclosure listing from the MLS for Vancouver, Langley and Surrey etc...
You will get notified of the property 2 days before it hits the general market. Takes me 5 minutes to set up. Message back if you want it.

Talk soon,
Robert Klein
What were my results?
60 Emails Sent
41 Email back saying Yes
12 Emails from people I did not really know
6 to 7 direct mortgage conversations
What surprised me?
41/60 people replied back to me. That's insane.
Are hippotraps hard to follow up on?
Currently, yes. It took me 4 hours of work to send out those 60 emails.
Is there a solution coming for that?
I'm glad you asked. Yes there is. Read the next box for that!
What is the problem with following up with 200 clicks from a newsletter?
Everything.
How are we going to solve it.
By creating a solution that will allow us to respond to all 60 people with a templated/personalized message.
This will be done on a single webpage and not clicking through 60 different people.
What's the importance of this?
You will be able to engage your audience based on their actions. Instead of waiting for them to contact you, you can contact them.
Who is it for?
For Sales professionals who meet people 1 on 1.
What does it solve?
A way to pick up everyone's emails and stay in contact.
What's the strategy?
1. You are at a networking event or you are meeting someone at a starbucks etc.
2. At the end of a conversation, you say the following "Do you mind if we stay in touch through my newsletter?"
3. They say "sure".
4. You pull out the app and input their name and email.
5. You get them to press the join button. (Takes care of email compliance)
6. Your last newsletter is automatically sent to them.
7. They see it, click on it, and engage.
8. You get live data back of that engagement.
They are now used to your newsletter, so when you send your next one for month end, they know who you are.
Why is this awesome?
You can now go out and network and collect emails with full consent and grow your database and stay in touch with them forever.